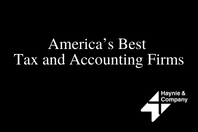 Haynie & Company makes 2022 list of America's top tax and accounting firms
THE WOODLANDS, TX – Haynie & Company is on Forbes America's Best Tax and Accounting Firms 2022 list. Our CPA firm is one of only three recommended Utah companies. In addition, approximately 4,400 recommendations were considered in the final national analysis. See the 2022 list here.
Forbes examines the question "What do business leaders want in a tax and accounting firm?" ". Their annual list is based on surveys of accounting professionals and their clients. Forbes is teaming up with market research firm Statista to create the Most Recommended Companies List. Forbes knows that businesses want trusted advisors who can do their audit and tax work effectively. Likewise, they need CPAs who offer strategic planning and process improvements.
THANK YOU
The recognition of Forbes as one of the top CPA firms in the United States is a huge honor. Our incredible clients have recommended us for this prestigious list. Above all, we are really grateful.
ABOUT HAYNIE & COMPANY
Haynie & Company is an award-winning provider of tax, audit and corporate advice. We focus on building long term relationships with local businesses in the area. Since 1960, we have grown from a single office in Salt Lake City to 15 sites and nearly 400 team members. As we grow we will always keep our values ​​of small family business and trust. Plus, we want to be known for exceeding expectations. Providing excellent service is our top priority as we deliver corporate tax planning, appraisals, audits, reviews, compilations, accounting services, financial expertise work and more to satisfied business owners. .
Visit www.HaynieCPAs.com to find out more about us.