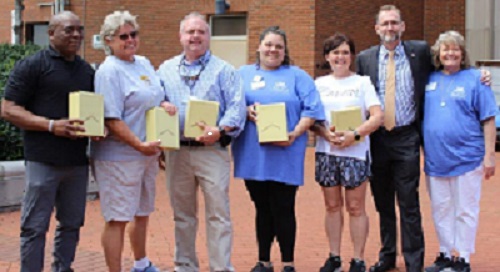 Hometown Heroes Walk for Children Award Winners
Five community leaders were presented with the 2022 Hometown Hero Awards by Child Advocacy Center Director Sharon De Boer and Board Member Terry Fann at the 7th Annual Hometown Heroes Walk for Children Friday morning.
"Each of these Hometown Heroes is a passionate advocate for children," De Boer said. "They are servant leaders who have dedicated their careers to making our community a better place for children and families."
The awards were presented during the annual Child Abuse Prevention Month event. The 2022 winners were Art Dinkins, Patty Oeser, Detective Michael Yates, Dr Lisa Milam and Jessica Ramos Wauchek.
Art Dinkins served in the U.S. Army and earned his bachelor's degree in physical education from Mississippi Valley State University and his master's degree in public service management from Cumberland University. He is a devoted family man who has been married for 29 years and has two sons and a grandchild. He is a deacon at Oliver Branch Church in Murfreesboro.
Dinkins has worked in the Department of Children's Services since December 2005, where he is a true team player. He was hired at the Williamson County Department of Children's Services as a foster case manager 3. Three months into his new career, his team leader left abruptly. He asserted himself and took over the role of team leader without hesitation. In 2009, he was transferred to the Rutherford County Department of Children's Services to become the leader of the foster care team. But instead of supervising the foster family, he went where he was needed most as the child protective services team leader. He always did whatever it took to keep the department in compliance. These tasks include making home visits, entering case notes, assessing the needs of children and adolescents, and attending team meetings.
Dinkins has dedicated his career to helping child abuse and sexual abuse victims in Rutherford County and being an outstanding supervisor to his staff.
Patty Oeser was a dispatcher, patrol assistant, school resource officer and detective for 24 years with the Rutherford County Sheriff's Office. Most recently, she worked as a detective in the Family Crimes Unit, responding to cases of physical and sexual abuse of children. She has taught Internet safety courses to students and parents and has worked on the sex offender registry.
Oeser served on the Tennessee Internet Crimes Against Children Task Force comprised of the FBI, Tennessee Bureau of Investigation, Department of Homeland Security, and local law enforcement. As part of the task force, she investigated a Milton man accused of using online sextortion of girls in a Western state and Germany. The FBI describes sextortion as a crime that occurs online when an adult convinces an underage child to share sexual images or perform acts on a webcam.
Oeser investigated a director of youth education at the church who was charged with the statutory rape of a girl from the age of 13. The attacker pleaded guilty in February and is serving a 20-year prison sentence.
Oeser received a 2018 Child Abuse Prevention Month award from the Department of Children's Services because she responded whenever child protective services investigators needed her help in cases of child abuse. She always went above and beyond the call of duty to protect children.
Oeser has served on the Hometown Heroes Walk for Children committee that has organized this event for the past few years. She is currently the Principal of Rutherford County Safe Schools, where she continues to make a difference in the lives of children and youth in Rutherford County.
Dr. Lisa Milam has been a Tennessee expert in child sexual abuse with children for 30 years. She is the CAC's reference person for forensic examinations. She trained every member of the county's child protection investigative team. Since the beginning of her career, Dr. Milam has worked with child victims of sexual abuse and taught others how to help them.
She is completing her 30th year as a forensic social worker with Our Kids and serves as Director of Expansion. She has helped assess more than 10,500 children and successfully launched four satellite clinics at child advocacy centers in rural Middle Tennessee. Child victims in these rural counties would not have received the quality medical care and forensic evaluations they deserve without his pioneering efforts. In addition, she performs assessments for more complex cases involving young children.
Milam received her M.Sc. and Ph.D. from the University of Tennessee College of Social Work and is a Certified Clinical Social Worker. She has provided clinical supervision to many social workers in Middle Tennessee. She has presented at professional conferences in Tennessee and across the country and has published numerous research articles.
She is an award-winning baker and a TURBO Kentucky basketball fan. She lives in Springfield with her husband and cats.
Detective Michael Yates was hired by the Murfreesboro Police Department in July 1996 and became a Field Training Officer five years later in July 2001. He was promoted to Detective in 2011 and joined the Special Victims Unit in May 2016. His associate and bachelor's degrees are from MTSU.
This hometown hero handles all of his cases, from start to finish, in a very victim-centric manner. He conducts thorough investigations, faithfully attends child protection investigative team meetings, testifies well in court, and helps families navigate the complex criminal justice system.
Talking to a police officer can scare children. Detective Yates is a family man who knows how to talk to children. No matter how old the child is, he knows he has no problem and is ready to help. Children feel safe and listened to when talking to her. As a Special Victims Unit detective, he interacts with children and families whose lives have been shattered, and the ability to talk to children and families and give them back some of their control is essential to bring them the justice they need.
Yates teaches a course at the Murfreesboro Police Department's Citizens Police Academy and was integral in establishing Darkness to Light child sexual abuse training for the department. Yates has been a loyal member of the Hometown Heroes Walk for Children committee where he hosts the event, helps secure food donations for the picnic, and always comes up with new creative ideas every year, like the Tennessee guitar for the this year's silent auction.
Jessica Ramos Wauchek is a key staff member at the Child Advocacy Center. She holds a bachelor's degree in accounting from Ashford University and an associate's degree with a major in accounting and a minor in management from New Jersey City University. When she came to the Child Advocacy Center, all of her professional experience was in the for-profit world – as an accountant at HD Smith Pharmaceutical, World Packaging, Gregory Commons and Long Island Beef.
When Wauchek applied to CAC, she just wanted a "little accounting job" she could do part-time while her kids were in school. Now she oversees the Child Advocacy Center's accounting, fundraising and community education program.
Wauchek is one of the CAC's hardest workers. Several years ago, United Way's online grants system had a problem and it took hours to add the data. She stayed at the CAC until 4 a.m. to enter data before the deadline. She's always ready to help, whether it's moving furniture or helping social workers add up their client numbers at the end of the term. Her family supports her by volunteering.
Wauchek has the best attitude. She comes in every day with a smile on her face, an infectious laugh and an infectious sense of humor. Along with the heartbreaking cases worked at the CAC, she helps balance the grief. She runs the Child Advocacy Center together. She's up front and behind the scenes to make positive things happen every day.
"All of these hometown heroes never wanted to be recognized for their accomplishments, because it was never about them," De Boer concluded, "it was always about the kids."